 Come explore on foot the most-beautiful places in the South Tyrolean Dolomites!
What better way to explore and enjoy the natural beauty of the South Tyrolean Alps than by hiking? The unique alpine scenery, the picturesque hiking trails, and the challenging fixed-rope routes make the Dolomites an attractive destination for an enjoyable, sustainable hiking vacation in South Tyrol. Come restore your vitality and enjoy the peacefulness! The hiking villages of Truden / Trodena and Altrei / Anterivo offer you the perfect opportunity to do just that! Whether you prefer solo hiking, a hiking vacation with the whole family, with your dog, combined with mountainbiking or mountain-climbing – you can be sure to enjoy a very special holiday.
If you wish to know what beauty is, Go out into Nature, And there, you will find it.
Albrecht Dürer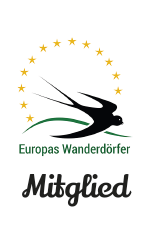 Europe's hiking villages
Our villages are nestled in impressive natural landscapes. Even on a small scale, they display an incredible degree of variety. Experiencing their lovely atmosphere, walking along the well-maintained hiking trails and discovering again and again new perspectives and amazing views,
and enjoying our cordial hospitality – those are just some of the puzzle pieces that can be put together to form an unforgettable hiking vacation in the Dolomites.